It's now been a couple of weeks since the event was held, but I wanted to write up some sort of "after action" report, complete with photos.    This report is from the Ham / SAG van viewpoint, since that's where I was all weekend. I didn't take as many photos as I usually like to do, but I received photos from other folks, such as Mike Perez W5ZUP, Joe Plano KA1MZY, and various BikeMS Committee members.
At the almost last moment, Saturday's start line was moved from the AT&T Center over to the brand new Wheatley Heights Sports Complex on the other side of IH-10, just off Houston St.  This resulted in minor route change that subtracted about a mile from the course each day.  Riders in my SAG van said they preferred the new location over the AT&T Center, that it felt more like "our event" instead of "just borrowing the parking lot from the AT&T Center."
Our 15 SAG Vans came from Enterprise Rent a Car as usual, but what wasn't usual was that we had to remove and store our rear bench seats instead of Enterprise doing it for us, as they have done the past 4 years.  But Lloyd Hensley (BikeMS Staff) came up with a solution and we had the vans delivered to the BikeMS warehouse on Friday instead of our drivers picking them up directly from Enterprise.
Once the vans arrived, volunteers removed and stored the seats inside the warehouse, while the APRS Crew installed the trackers, applied the numbers to the front & back of the vans, distributed magnetic signs, t-shirts, and of course printed maps, guidelines and a list of where the authorized fuel stations were located.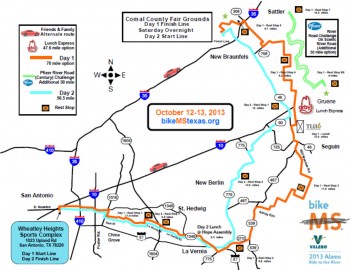 The Route both days was changed this year to avoid the stretch of FM1346 thru St. Hedwig, where the shoulders on the road had cracks large enough to cause a bike to flip, or to take a short cut to Australia perhaps?  After taking FM1346 for 2009-2012, the route committee said "enough is enough" and chance the route.  Riders seemed to enjoy the scenery on the new roads better, with less traffic, lower speed limits, but no shoulders.  The down side of the new section, was lots of blind curves and low water crossings that would have caused us problems on Sunday when the weather turned off bad.
Saturday's ride went pretty smoothly, with only a couple reported medical issues from riders having accidents, none really major.  It was probably one of our safest years yet for this ride.  We had an incident or two, where a SAG van got stuck when backed into a side road waiting for riders to pass, and a police vehicle with a dead battery.
Weather was very cooperative both Friday and Saturday, getting a bit warm and humid on Saturday afternoon, which required higher than normal SAG usage, but we (the hams & SAG Teams) were up to the challenge.  We've had several good feedback reports from riders who felt their SAG driver / team was very helpful, especially on Sunday.
The ride was completely finished shortly after 6pm on Saturday, with no riders needing to be picked up at the last minute as they returned down River Road on the Century Route.   Part of the reason for that improvement, was the earlier cut-off time set for riders wishing to take the extra 30 mile trip up River Road and back.  By moving the cut-off time forward, we eliminated those last minute riders who weren't physically up to the challenge of finishing the route by 6pm.
Sunday's weather made up for the good luck we had experienced thru the end of  Saturday.  Rain hit hard overnight on Saturday and continued into Sunday morning.  Fortunately for us, most of the heavy rain stayed north of the Wheatley Heights Sports Complex where the Day 2 finish line was to be, allowing riders who were driven back by SAG, Shuttle or Bus to Wheatley, to retrieve their vehicles and bicycles without being rained upon.
Some areas of Sunday's route ended up with 4-6 inches of rain, and while the storms cleared out before noon, several of the break point areas were reported as having several inches of standing water present.
At 5am Sunday morning, a conference call was held with the members of the BikeMS Executive Committee listening in and participating. The weather was discussed and calls were made to the NWS office to consult with them and area law enforcement agencies.  At 6am Sunday, a second conference call was held, and the decision to cancel the day's ride was announced.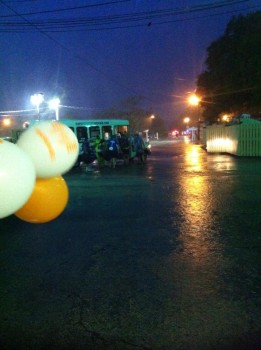 SAG Vans were asked to report immediately to the Comal County Fairgrounds to begin giving  riders a ride back to Wheatley Heights Sports Complex.
Break Point Hams and Motorcycle Marshals were told they could stay home, although many of them had already reported to the Fairgrounds for a free breakfast, or to their Break Point locations where they reported the sites being under water.
Whataburger showed up at 4am and had been serving hot breakfast Taquitos starting at 5am and continuing until all riders had been shuttled out.  Many of the Executive Committee members were seen wearing their rain gear, or the latest in fashion rain coats, commonly referred to during drier times as "plastic trash bags".
Here is a collection of photos from the event, taken by myself, Mike, Joe, and a couple other volunteers…