Anderson Powerpole Connector

Both ARRL's ARES and REACT International recommend using this standard for power connection of Amateur Radio equipment. The highly reliable connector allows quick and easy installation and substitution of radios, power supplies, batteries, and other equipment.
Features
Flat wiping contact system
Interchangeable Genderless design
Colored, Modular housings
Polarized housings
Wide product range - From 10 amps through 180 amps
UL94 V-0 housing material
Benefits
Allows for minimal contact resistance at high current, wiping action cleans contact surface during disconnection.
Simplifies assembly requirements and reduces parts inventory.
Allows customized multi-pole configurations with visual color coding to match wires.
Prevents damage to connectors from being mated incorrectly.
Allows versatility to choose product best suited to design requirements.
Provides security in knowledge that the connector chosen meets strict UL flammability ratings.
Either the 15-ampere, 30-ampere or 45-ampere sizes may be used, and both sizes mate with each other. The plastic parts are the same for both sizes. In fact, there is even a 75-ampere size available for a much higher cost per pair of connectors, that will handle 6, 8 or 10-12 gauge wire. Usually the 30-ampere size is used for most installations, but if you need to feed a group of radios from one wire, we recommend use of the 45-ampere or 75-ampere rated connections with the higher gauge wire.
The barrel area (which holds the wire) of the 15-ampere silver-plated contact is smaller than that of the 30-ampere or 45-ampere contact, but the contact area is the same. The connectors dovetail together into a compact unit.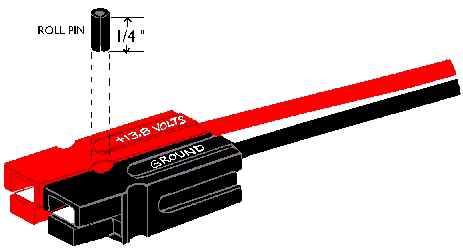 Housings should be mated according to the diagram above, viewing from the contact side (opposite the wire side), tongue down, hood up, RED on the LEFT, BLACK on the RIGHT. Use a 3/32-inch-diameter roll pin, 1/4 inch long, to keep the housings from sliding apart.
Highly conductive silver-plated copper contacts allow minimal contact resistance at high currents. Self-wiping action on make and break keeps conducting surfaces clean. Contact dents keep connectors mated in high-vibration applications and provide quick-break, snap action upon disconnect.
Noncorrosive stainless-steel leaf springs maintain constant contact pressure-ideal for frequent connections/disconnections and intermittent overloading. Durable, high impact-resistant, polycarbonate housing with UL94V-2 flammability ratings comes in many colors for circuit traceability and coding.
Identical connector halves are genderless-making assembly quick and easy and reducing the number of parts stocked. Molded-in dovetails allow for a customized harness in a variety of configurations. When the connectors are disconnected, no metal parts are exposed.
The 15-ampere contacts are designed for 16-20 AWG wire, the 30-ampere contacts are designed for 12-16 AWG wire and the 45-ampere contacts are designed for 10-14 AWG wire. The contacts can be soldered or crimped to wires. An expensive crimping tool (#1367G1) is available from Anderson. Other, less expensive, crimping tools are available from some of the sources listed below. After a contact has been attached to a wire, it should be installed into the housing so that the housing spring mates with the underside of the contact.
To remove a contact from the housing, use Anderson insertion/extraction tool #111038G2. You may also substitute a very small blade (jeweler's screwdriver or X-acto knife) to depress the spring, allowing the contact to be removed.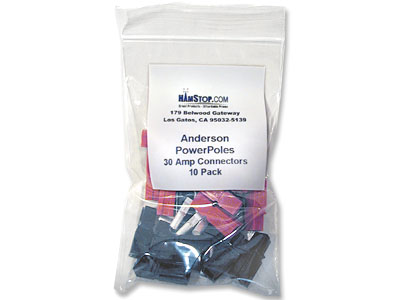 The connectors can be panel mounted with clamp receptacles, consisting of two aluminum plates (Anderson part #1462G1), notched to hold the plastic housings when they are dovetailed together. The plastic housings come in other colors also. Red and black are suggested for standard DC connectors (red as positive and black as negative).
You can buy these in sets, usually found in quantities of 10, 25, 50 or 100 sets per package. Expect to pay higher prices per piece for the lower quantity packages.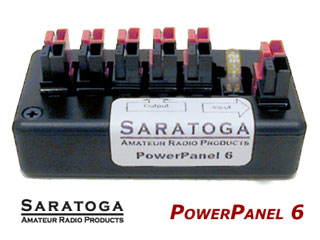 Other products are available which take advantage of the Anderson Powerpole connectors include the various power panels available from MFJ, Rigrunner and Saratoga.
Anderson Power Products Web Site: http://www.andersonpower.com/
West Mountain Radio has their RigRunner line of connector junction boxes, plus a meter that you insert in-line to measure amps, watts and voltage being used, while it's being used.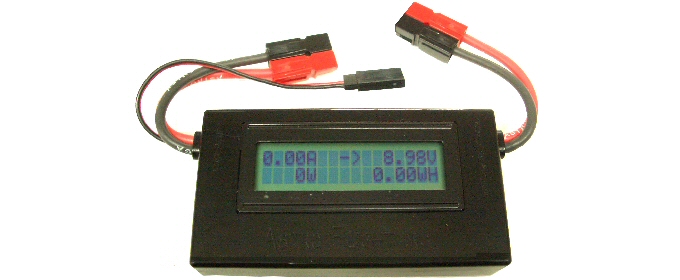 The West Mountain Radio RigRunner Whatt Meter (shown above) is designed to make voltage, amperage and power measurement easy and fast. Simultaneously reads Volts, Amps, Watts and Amp/hrs, fully automatic. These new meters take the guesswork out of power measurement. Rugged and easy to use, just plug it in to any PowerpoleŽ circuit. Makes it easy to read power consumption and battery capacity. Accurately reads up to 75 amps!

Some known trusted sources of Anderson Powerpoles:
PowerWerx.com
401 S. Harbor Blvd., F-320, La Habra, CA 90631
Tel: (714) 570-3303
Fax: (714) 990-5532
http://www.powerwerx.com/
info@powerwerx.com

West Mountain Radio
18 Sheehan Avenue, Norwalk, CT 06854
Tel: (203) 853-8080
Fax: (203) 299-0232
http://www.westmountainradio.com/
sales@westmountainradio.com