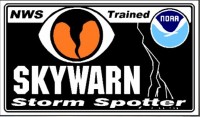 Here is a link to a movie trailer I made from video and photos of my Skywarn Spotting Activities over the past year.
The movie, music and titling was all done on my iPhone 5 using iMovie… it's simple easy to make you just drag and drop the files you want. it creates the audio, transitions and titling for you.
This version has been updated to remove reference to a specific local ham club and local ARES group at their request.
I hope you enjoy watching it, as much as we did making it.
Matthew Rottman K5NON
MPR Photography
Bicycling for the Heck Blog