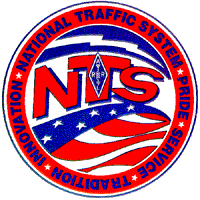 The San Antonio Central Texas Traffic Net has been restored and operating on 443.025 with a PL of 82.5. The Net requires activity and support to restore to full operational capability and recognition. Even if you do not have traffic to pass, please sign in for the count to help get the net back off the ground.  The repeater is located at the San Antonio American Red Cross HQ on the east side of San Antonio.
Do you have a message that's just got to get through?  Is that special someone waiting to hear from you?  Well, come on up to the Alamo Traffic Net and let us help.  We have connections to the outside world through the 7290 Traffic Net, the Texas Traffic Net and even the CW traffic.
Call us on Mondays, Wednesdays, or Fridays at 1900hrs, on 443.025 + 82.5.  We use the standard ARRL Traffic format so keep your message short (25 words or less) and sweet.  When you call, use ITU phonetics for your call sign and we'll talk to you.
There will be some future nets to train on the proper method to pass traffic and opportunity for people to sent some messages out to learn and operate.
BTW, you don't have to have a message, we'd just like to hear from you.  Come on up and get on the count.
History: In years past, the Central Texas Traffic Net was held nightly on the 147.14 Buzzard's Roost repeater located east of Canyon Lake. However when the repeater's aging Heliax (coax) deteriorated to the point of making this strong repeater almost worthless in coverage area, the net was discontinued.  Several other repeaters were tried, but none had the coverage area (from Austin to San Antonio and beyond), so eventually the net was dropped.  The Daytime Texas Traffic Net continues to be on HF 7.285 in the mornings (Monday thru Saturday, 8:30-9:30am CT).  More information can be found on Facebook or  their website… http://www.daytimetexastrafficnet7285.org/