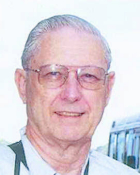 Ray Wangler, W5EDZ, age 86, born December 23, 1926 in San Antonio, Texas, passed away after an accident at his home on September 6, 2013.
Ray was a devout Catholic and an active parishioner at St. Gregory the Great Catholic Church and was a member of the Knights of Columbus. Throughout his life Ray took great pleasure in breeding exotic birds and was a member of the San Antonio Bird Club. He was an active Amateur Radio Operator licensed as W5EDZ for many years.  Ray was a former president and club officer of the San Antonio Radio Club.
He is survived by his wife Jeannine (Laake), to whom he was married for 65 years, and his eight children, Diane Ingram, David Wangler, Mary Styles, Joan Huey, Margaret Meissner, Mark Wangler, Angela Overley and Eric Wangler, as well as thirteen grand children and two great-grandchildren.
Ray was a loving husband and father. He grew up in San Antonio and went to St. Gerard's grade school, Central Catholic High School and attended St. Mary's University where he earned a Bachelor of Science and a Bachelor of Arts degree. He worked for Southwest Research Institute for over 30 years as a Safety Engineer. He served as President of the Institute of Electrical Engineers for four years.
The family would like to extend their sincere gratitude to the medical professionals at SAMMC, especially the Surgical ICU, for their dedication and professionalism.
Rosary  & Mass was held on September 11, 2013
St. Gregory The Great Catholic Church
700 Dewhurst, San Antonio, TX
Interment was in Holy Cross Cemetery.
– See more at: http://www.legacy.com/obituaries/sanantonio/obituary.aspx?n=raymond-wangler&pid=166875142&fhid=16135#fbLoggedOut