SARO is once again looking for more Ham Volunteers to step up and help with this annual event.
Coordinating this year's event is MaryAnne N5MYN, Charlie KC5NKK, and Lee N5NTG.
C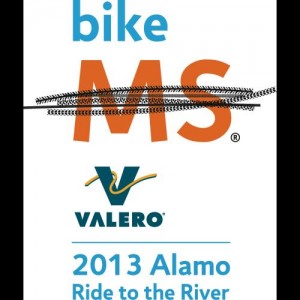 harlie KC5NKK is the point of contact for ham volunteers and assignments. MaryAnne N5MYN is interfacing with the Tour Director and event staff. Lee N5NTG is coordinating the SAG teams, van pick-up and day of the event assignments.
We know that we need a minimum of 32 amateur licensed volunteers. In addition, we would really like to have co-pilots for the SAGs (amateur license not required).
Below is some information about what we'll need in order to cover this event "at a minimum." Obviously, we want to exceed this minimum and be ready to do this ride the right way, the SARO way!
At present time (7/25/2013), we have 29 who have said "yes" plus 4 SAG co-pilots, so we have a lot of recruiting to do yet. We would like to have at least 5 "spares" to cover last minute cancellations. If you have friends or acquaintances (or even people you don't like) who would consider helping (licensed or not) please contact them and let us know if you get any interest.
There will be some route changes, mostly on Day 1, such as avoiding FM1346 thru St. Hedwig. After many years, and no repairs being made to the large cracks along this stretch of FM1346, some big enough to swallow a rider and his/her bicycle (just kidding), the route committee decided enough was enough.
The new route on Day 1 drops south and goes around St. Hedwig, which forced the one rest stop. In addition. one of the churches we normally used in the past, apparently has a wedding scheduled for that weekend and for some strange reason, the bridal party didn't think that them working a rest stop would fit into their plans.
We need several things from you. We need a volunteer agreement executed. The strongest preference is to do it on line. Instructions will be emailed to you when you sign up to work this event. This form is required of every volunteer for each event. Even if you helped with the BP ride this Spring, this form needs to be executed again for our ride. The main reason for doing one for each event is this is the way that the MS office knows who you are so they can send you "thank you's" and appreciation party invitations.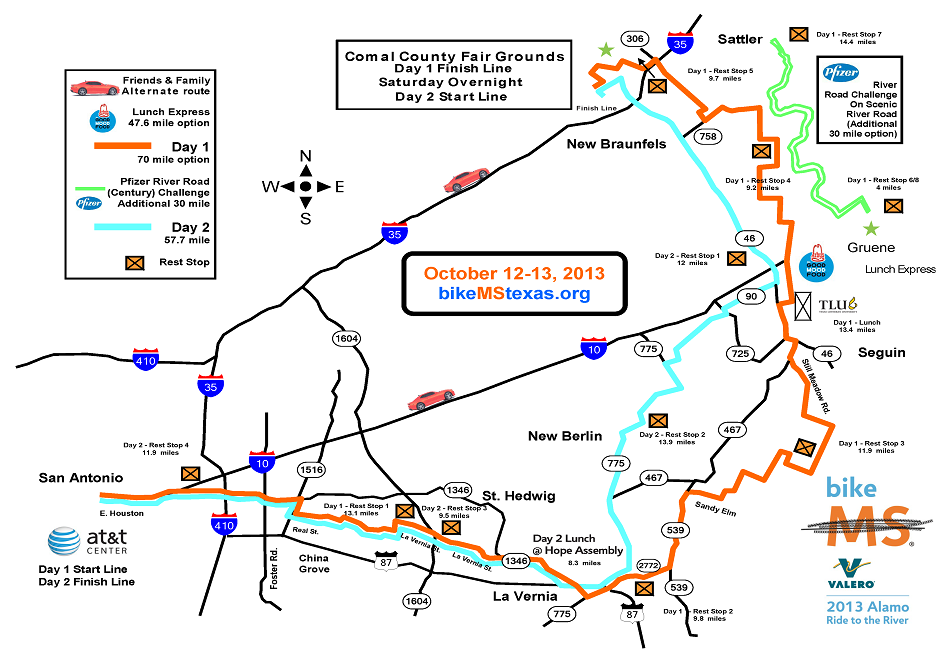 If you are driving a SAG van or any other MS vehicle, we need for a criminal background check to have been done within 3 years of the event date and a driving record check within a year of the event date.
If you are co-piloting a SAG but not driving, or in any other job where you are likely to be alone in a vehicle with a rider, then we need for you to have had a criminal background check within the 3 years prior to the event date.
If you are working at a Rest Stop, Net Control, or any other position where you would not likely be alone with another volunteer or participant, then it is likely that all we will need is the volunteer form to be completed.
If you have any concerns or questions about the criminal background check or DMV check, please feel free to email Charlie Land or call him at 210-568-7092.
Charlie will NOT have access to your background check information other than to know if you passed or failed.
Our experience in the past is that minor or very old stuff that shows up on someone's record is not an issue. We believe that they are just looking for more egregious problems, such as a DWI on someone who is to drive a van, violent or sex crimes, etc. (someone you wouldn't' want your wife or daughter to be alone in a car with).
Contact Charlie KC5NKK via email or by phone (210-568-7092) to volunteer or find out more about this event.