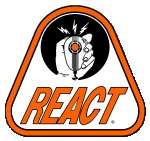 The following letter (from REACT) was hand delivered to SARO at their membership meeting on January 27th. The SARO membership subsequently passed a motion at that same meeting, to authorize the SARO board to spend up to $5,000 for obtaining the services of a tower crew and needed hardware to finish this project ASAP. 
Nearly 2 years ago, Hill Country REACT purchased  a 1283 ft long' spool of 1-5/8″ foam core Anderson Heliax, and reserved it for the completion of the 147.14 restoration project, but if the project remains unlikely to move forward, this valuable resource will be reassigned, or sold  by, REACT for other more feasible projects. – Lee N5NTG
---
Hill Country REACT
P.O. Box 1487, Canyon Lake, TX 78133
www.HillCountryREACT.org
January 25, 2012
San Antonio Repeater Organization
Attn: Royce Taylor, KA5OHJ, President
P.O. Box 1753
San Antonio, Texas 78296
Re: The Canyon Lake 147.14 Repeater
Dear Royce,
The members of Hill Country REACT would like to take responsibility for the 147.14 repeater, including responsibility for management, control, and financial responsibility, with the goal of getting this valuable repeater back on the air at the best level of performance possible. 
This repeater has been a thorn in the side of the SARO organization for many years now, threatening to become a financial drain on its treasury, with only a small percentage of SARO members actually using this repeater.  
REACT feels area hams along the IH-35 corridor would use this repeater more, if it was restored to useable wide area coverage performance.
We are asking that SARO work with us to transfer frequency coordination with the Texas VHF-FM Society, change the name on the contract with Crown Castle, and change the trustee of the repeater with the FCC. Hill Country REACT is a non-profit 501(c)3 Texas corporation.
In return, REACT will become responsible for locating & paying for the tower crew, supplying all needed hardware & antennas, etc. to get the job done right, in a timely manner, thus preserving a long time asset to the amateur radio community.
This offer is valid for 2 weeks, until February 10th, after which time the members of Hill Country REACT will decide what other options they have available for use of our spool of 1-5/8″ Heliax and funds we have set aside for this project.
Please contact our president, Wade Bolling W5ERZ, at 210-316-4911 or email w5erx@hillcountryreact.org, or our vice president, Lee Besing N5NTG, at 210-771-7075 or email n5ntg@hillcountryreact.org, with your response.
Thank you in advance…
Sincerely,
Lee Besing, N5NTG
Vice President
Hill Country REACT Team #4804