SARO has resumed publishing quarterly issues of the SARO Bulletin, their club newsletter. The newsletters are open for reading by the general public, and the January 2012 issue can be read using the link below.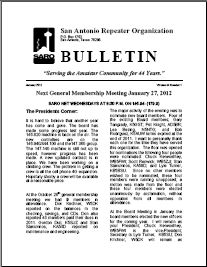 NEXT SARO Memberhip Meeting – Friday, January 27th. See website or newsletter for details.
THE SARO BULLETIN (CLUB NEWSLETTER) IS BACK!
Eric Olson, WB5ZJQ, is the new editor.
Check out the newest issue on the Bulletin webpage, or click on the image to the left of this notice. This file is in Adobe Reader format (PDF) and is 33kb in size