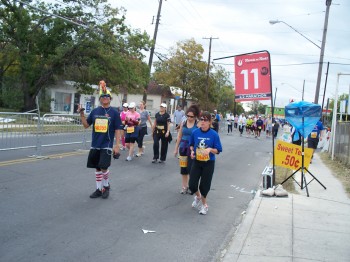 Once again, the AARO Ham Club has been tasked with providing Hams to assist the San Antonio Rock & Roll Marathon on Sunday, November 13, 2011. 
We don't have much time to get this organized, but we need volunteers at every mile marker, and a few other odd ball locations along the route.  We need about 2 dozen (minimum) volunteers to staff each of the assigned positions.
Duties include picking up the timing clocks prior to the event, (See #3 below for details), then being on-site at your assigned location prior to 6am, ready to turn them on when Dave Espinoza W5QS gives us the countdown over the radio.  We'll send out exact locations for those of you who sign up to work the event.
Coordinator this year is LEE BESING N5NTG.  Contact Lee via email at lee@besing.com to volunteer, or call him at 210-771-7075.  Email preferred due to tracking of assignments.  If you have a preference on location, or limitation on time available for the day of the event, please let us know.  We'll assign locations on first come, first serve, with preferences given for those asking for repeat locations from previous years (to help minimize directional confusion).  
A few of you have already contacted Lee for volunteering & we thank you. Please confirm that you are on his list.   We need your name, call sign, cell phone #, email address, preferred location (or any limitations) & of course your T-Shirt Size.
Assignments will distributed via email, or in person at the AARO Ham Club Meeting on Wednesday.  
Please come to the AARO Club Meeting at 7pm on Wednesday, November 9th, for full details and to get assignments in person.   Meeting location is Mamacitas Mexican Restaurant, 8030 W IH-10 on the Eastbound access road, between Medical & Callahan Road.
Map Link Here  http://maps.google.com/maps/place?q=Mamacita's,+San+Antonio,+TX&hl=en&cid=6801112662630638800
This year's route has been changed due to construction downtown.
Here's the plan, same as previous years:
1)    AARO volunteers staff the start line and a minimum 22 clock locations on race day.
2)    Ideally, the volunteers have been pre-assigned a location based on history, accessibility, comfort with location, time available to volunteer, etc.
3)    Volunteers report to the race compound in Alamodome Lot C at 6 p.m. on Friday, Nov. 11. At that time, the volunteers will get their clock, case, charger, tripod, course maps/specific location, passes, T-shirts, and any additional instructions and information. 
4)    Race morning, one person reports to the start line area to broadcast the race start (typically parking on the top floor of the parking garage at Bowie and Market). All other volunteers drive directly to their post by 6 a.m. Note that the roads are closing earlier this year due to the inaugural bike tour at 6:45 a.m.
5)    Volunteers place clocks on the tripods at their mile location (mile signs delivered by other course set-up crews) and stand by for race start at 7:30 a.m.
6)    At the precise race start broadcast from the start (should be right at 7:30 a.m.), volunteers start their clock.
7)    Volunteers park off the course but within sight of their clock. During the race, they are basically cheerleaders.
8)    Volunteers should know where closest medical station, water station, and restrooms are on their course. They should see these when driving to their location.
9)    When the last runners go by (as indicated by the passing of the official "tail vehicle") they return the clock to the case and break down the tripod. The clock, case, and tripod will be picked up by one of the course crews. They should not leave their clock unattended after the race.
10) After their clock, case and tripod are picked up, their task is over.
Rock 'n' Roll San Antonio Digital Course Clock Positions Needed
All clocks started with the first runner start (should be 7:30am, not the bike tour at 6:45 a.m. or the wheelchairs at 7:25 a.m.).  If you have a position that requires multiple clocks to be activated, turn them all on at same time & then deploy to the designated sign locations or use multiple persons.  
Position         Location
1)    Joint Mile 1
2)    Joint Mile 2
3)    Joint Mile 3
4)    Joint Mile 4
5)    Joint Mile 5
6)    Joint Mile 6
7)    Joint Mile 7
8)    Joint Mile 8
9)    Joint Mile 9
10)  Joint Mile 10 (can be combined with Full Mile 25 if needed as they are close)—2 clocks
11)  Half Mile 11 (can be combined with Full Mile 24 if needed as they are close)—2 clocks
12)  Half Mile 12 and Full Mile 25 (very close together)—2 clocks
13)  Full mile 11
14)  Full mile 12 and mile 23 (close together) – 2 clocks
15)  Full Mile 13, Full  Mile 13.1 (halfway),  and Full Mile  22—3 clocks
16)  Full Mile 14 and full mile 21 (close together) – 2 clocks
17)  Full Mile 15
18)  Full Mile 16
19)  Full Mile 17
20)  Full Mile 18
21)  Full Mile 19
22)  Full Mile 20
23)  Net Control Start / Finish – David Espinoza
Lee Besing, N5NTG
Phone (210)771-7075 (cell) voice or text msg
lee@besing.com